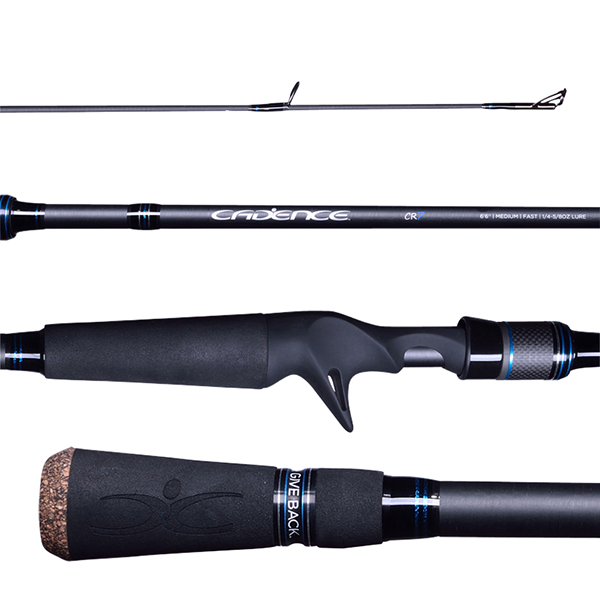 CR7 Casting Rod
40-ton graphite – lightweight & sensitive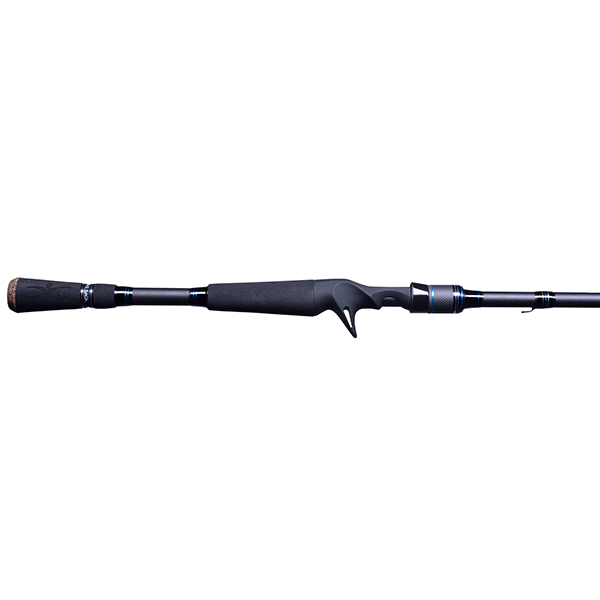 CR7 Casting Rod
Stainless steel guides with SIC inserts – smooth casting & durable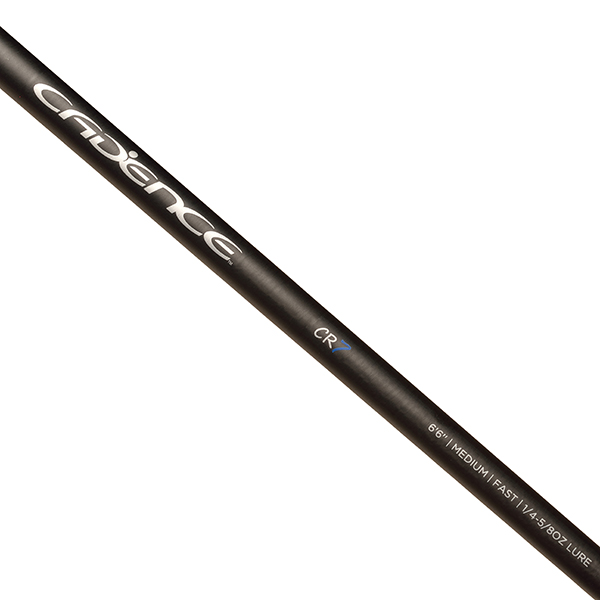 CR7 Casting Rod
Fuji reel seat – ergonomic & comfortable
The Cadence CR7 series of casting rods are among the lightest rods under $100 available. The blanks are constructed from 40-ton carbon allowing our engineers to build an extremely lightweight rod while still offering the strength to land that fish of a lifetime.  The stainless-steel guides with SIC inserts provide exceptional casting performance and durability, while the Fuji reel seat's ergonomic design makes for an extremely comfortable grip.  The 40-ton blank includes a carbon wrapped veil to further increase rigidity and strength.
Super-lightweight yet strong materials along with great attention to detail in its design make the CR7 an incredible casting rod. These rods are available in a variety of lengths and actions with the ideal specifications to match the most popular applications and techniques.  From skipping your favorite jig, throwing topwater baits, cranking and beyond, the CR7 series of casting rods will exceed your expectations with the features, quality, and design you have come to appreciate in rods costing significantly more.
40-ton graphite – lightweight & sensitive.
Stainless steel guides with SIC inserts – smooth casting & durable.
Fuji reel seat – ergonomic & comfortable.
Carbon wrapped veil – strong & durable.
Premium grade cork and EVA handles – maximum comfort.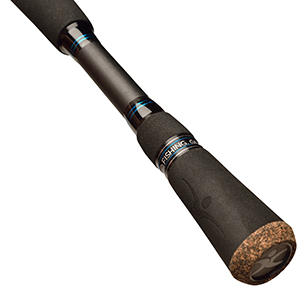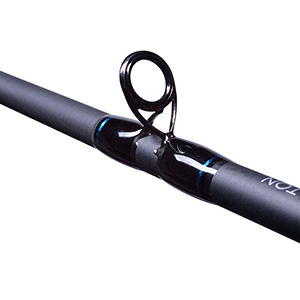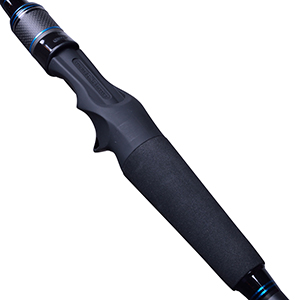 40 TON CARBON
Lightweight and sensitive
STAINLESS STEEL GUIDES WITH SIC INSERT
Smooth casting & durable
FUJI REEL SEAT
Comfortable, ergonomic design
| | | | | | | | | | | |
| --- | --- | --- | --- | --- | --- | --- | --- | --- | --- | --- |
|   | Length: | Power | Action | Pieces | Handle Type | Line Wt. Mono | Lure Wt. | Technique | Price |   |
| CR7-6101B-MHMF | 6'10" | Medium Heavy | Moderate Fast | 1 | Split | 12-20 lb | 1/4-3/4 oz | Spinnerbait/Chatterbait | $79.99 | BUY ON AMAZON |
| CR7-661B-MF | 6'6″ | Medium | Fast | 1 | Split | 8-17 lb | 1/4-5/8 oz | Jerkbait | $79.99 | BUY ON AMAZON |
| CR7-691B-MHF | 6'9″ | Medium Heavy | Fast | 1 | Split | 12-20 lb | 1/4-3/4 oz | Top Water | $79.99 | BUY ON AMAZON |
| CR7-701B-MF | 7'0″ | Medium | Fast | 1 | Split | 8-17 lb | 1/4-5/8 oz | Multi-Purpose | $79.99 | BUY ON AMAZON |
| CR7-701B-MHF | 7'0″ | Medium Heavy | Fast | 1 | Split | 12-20lb | 1/4-3/4 oz | Multi-Purpose | $79.99 | BUY ON AMAZON |
| CR7-701B-MHM | 7'0″ | Medium Heavy | Moderate | 1 | Split | 12-17 lb | 3/8-1 oz | Crankbait | $79.99 | BUY ON AMAZON |
| CR7-701B-MM | 7'0″ | Medium | Moderate | 1 | Split | 8-14 lb | 1/4-5/8 oz | Crankbait | $79.99 | BUY ON AMAZON |
| CR7-731B-HXF | 7'3″ | Heavy | Extra Fast | 1 | Split | 12-25 lb | 3/8-1 1/2 oz | Carolina Rig | $79.99 | BUY ON AMAZON |
| CR7-731B-MHF | 7'3″ | Medium Heavy | Fast | 1 | Split | 12-20 lb | 1/4-3/4 oz | Worm/Jig | $79.99 | BUY ON AMAZON |
| CR7-741B-HF | 7'4″ | Heavy | Fast | 1 | Split | 12-25 lb | 3/8-1 1/2 oz | Frog | $79.99 | BUY ON AMAZON |
| CR7-761B-HF | 7'6″ | Heavy | Fast | 1 | Split | 12-25 lb | 3/8-1 1/2 oz | Flipping/Pitching/A-Rig | $79.99 | BUY ON AMAZON |

FREE SHIPPING ON ALL ORDERS

1 YEAR WARRANTY ON ALL PRODUCTS

100% SAFE & SECURE CHECKOUTS