If you are a bass fisherman then no doubt you've heard of the Ned Rig. It is a finesse style of fishing that has a reputation of eking out limits even when the bite is tough. If you aren't familiar, a ned rig is simply a small stick bait put on a jig head. The best spinning rods for this type of fishing have a fast tip for casting light baits and plenty of sensitivity to feel subtle bites.
Tony Caduto, the man behind the YouTube channel BassMan Strikes, is a huge fan of the Ned Rig. "I use the Cadence CR7, 6'6" medium power, fast action rod for the Ned Rig," says Caduto who pursues bass, pike, panfish and more in the lakes and rivers around Milwaukee, Wisconsin. "The CR7 6'6" works great for Ned Rigs because the fast action tip and lightweight, 40 ton graphite provides excellent sensitivity allowing me to feel the lightest finesse bites."
Another avid angler with a fondness for finesse bass techniques is Adam Kyzer from the YouTube channel SimpleFishin. Kyzer, who chases largemouth and smallmouth bass in South Carolina, prefers the Cadence CR7, 7' medium light power, medium fast action for the Ned Rig, wacky worms and shaky heads. "CR7's are the best spinning rods on the market," Says Kyzer. "The feel and look are top notch."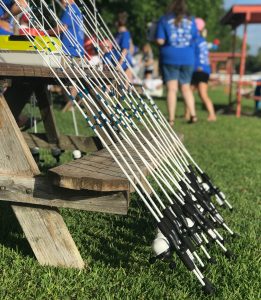 CR7 Components
The best spinning rods are made from premium graphite, and as Caduto points out, the Cadence CR7 series is made from incredibly strong, sensitive and lightweight 40-ton graphite. Further enhancing the sensitivity is the Fuji reel seat. "The exposed blank on the skeletal reel seat provides excellent sensitivity," notes Caduto. "It's also very comfortable because it provides a resting area for your palm."
The best spinning rods sport quality guides and the Cadence CR7 is no exception. The CR7 guide frames are stainless steel with a forward swept design to minimize tangles when using braid. The guide rings are silicone carbide (SiC), an incredibly smooth material with a hardness approaching that of diamonds which means these guides can hold up to the toughest braided lines.
CR7 rods are good for a lot more than just finesse techniques. Cadence offers the CR7 in twelve different models, with lengths from 5'10" up to 7'6" and actions ranging from medium light, suitable for panfish and trout, up to medium heavy that works well for bigger bass, pike and even inshore saltwater bruisers like redfish and snook. Caduto says the7' medium heavy, fast action CR7 is one of the best spinning rods for fishing larger crankbaits and topwater lures such as the whopper plopper.
The best spinning rods won't let you down when a big fish is on the line. Kyzer notes, "The CR7 has great balance, is lightweight, yet still has good backbone to winch the fish out of cover if needed." The CR7's
backbone comes from quality 40-ton graphite construction along with an additional carbon wrap along the lower third of the rod to increase strength where it's needed the most.
Rounding out the CR7's impressive list of features are comfortable grips made from premium grade cork and EVA. The rods also include a handy, drop shot style hook keeper that not only allows you to stash normal hooks, but also Texas rigged plastics and even drop shot sinkers.
Best Value on the Market
Perhaps the best thing about the Cadence CR7 is you get all the features you'd find in the best spinning rods on the market at a surprisingly low price. This is due to Cadence's unique business strategy. You won't find Cadence rods and reels at your local tackle shop or big box store. You can only buy Cadence gear through their website (www.cadencefishing.com) or on Amazon. By cutting out the middleman and eliminating costly markups, Cadence offers the best spinning rod values in the industry.
If buying a premium rod at a great price is not enough, Cadence dedicates a portion of their proceeds to providing free rod and reel combos to fishing-based youth charities. When you buy a CR7 or any Cadence product, you are helping to pass on fishing to the next generation of anglers.

FREE SHIPPING ON ALL ORDERS

1 YEAR WARRANTY ON ALL PRODUCTS

100% SAFE & SECURE CHECKOUTS