When the water cools down and the bass become finicky, shaky head fishing can turn an angler's day around. Whether you are fishing deep points or shallow structure, a shaky head paired with a craw or finesse worm can usually tempt those picky fish to bite. The most important aspect of fishing a shaky head is your setup. For this application, light line is a must, and if you are using braid, a long leader is recommended, as finicky fish are usually line-shy. As is true with most finesse techniques, a proper spinning combo is key. You want a rod that is sensitive enough to feel light, sluggish bites, but also has enough backbone to fight and land a big one.
The Set-Up
Andrew Nordbye, an avid tournament bass fisherman, says he prefers a medium-heavy spinning rod with a fast action tip for firm hooksets that won't tear the hook from the fish's mouth. A Cadence Fishing spinning rod that is perfectly matched to these standards is the 7-foot, medium-heavy/fast action CR7. This rod comes at a great value without sacrificing sensitivity or feel, like many other rods in its price range and it is one of the best spinning rods for this application. While shaky head fishing, the rod is very important to catching fish because the angler needs to be able to feel the bite as well as set the hook and land the fish. A rod that is too heavy will make it hard to feel a light tap and can cause you to try to horse the fish in, while a rod that is too long will make it hard for you to control the bait in short twitches.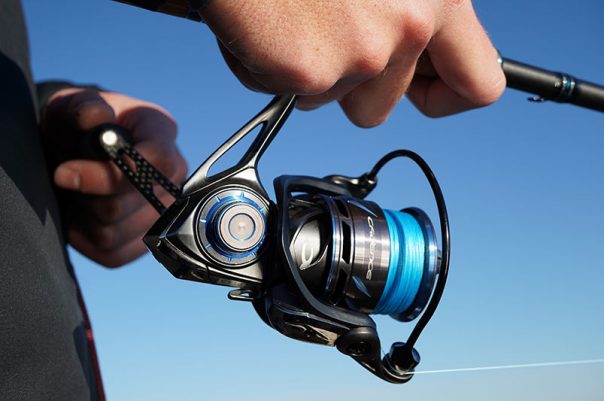 In terms of the reel, Nordbye likes a 3000-size spinning reel. The Cadence Fishing spinning reel that he prefers to use for this application is the CS10-3000; it boasts 11 corrosion-resistant ball bearings and a butter-smooth carbon fiber drag system. The 3000 size CS10 is one of the best spinning reels on the market for its price. With a retail price of $119.99, it competes with $150+ reels in terms of specifications and features. Additionally, Cadence offers five other spinning models that come in a 3000 size, all of which offer a great value for any angler.
Give It a Try
With the bass becoming lazier and moving deeper this time of year, a simple 1/8-1/4 oz shaky head paired with a tiny finesse worm can be the golden ticket to catching those cold-water brutes. Sometimes all it takes to coax a late season monster into biting is to downsize baits and slow down your presentation. As the water cools and the bass begin their late fall/winter habits, it might be a good idea to keep a shaky head tied on to your new Cadence Fishing spinning combo. Next time you are having a slow day on the water, try throwing a shaky head on spinning gear, you won't be disappointed.

FREE SHIPPING ON ALL ORDERS

1 YEAR WARRANTY ON ALL PRODUCTS

100% SAFE & SECURE CHECKOUTS