Mosquito Lagoon is no place for wimpy tackle. Bruising redfish, black drum, marauding jack crevalle, and feisty tarpon can put a hurtin' on lesser rods and reels. Add hundreds of inexperienced clients who are notoriously tough on gear plus a corrosive saltwater environment and you have a prime recipe for tackle destruction.
This is what Longwood, Florida resident, Captain Chris Myers has to deal with over 150 days a year as he guides on Florida's famed Mosquito Lagoon. For guided Lagoon fishing, spinning reels are an optimum choice because they are easier for novice clients to use. For Myers' style of finesse fishing, spinning reels are necessary, even for experienced anglers to cast small, lightweight lures to spooky redfish tailing in skinny waters. Myers uses the Cadence CS7 spinning reels. "This is a very good reel at an affordable price," says Myers. "This reel has features and performs like other reels I have used that cost twice as much. I definitely recommend this reel to clients"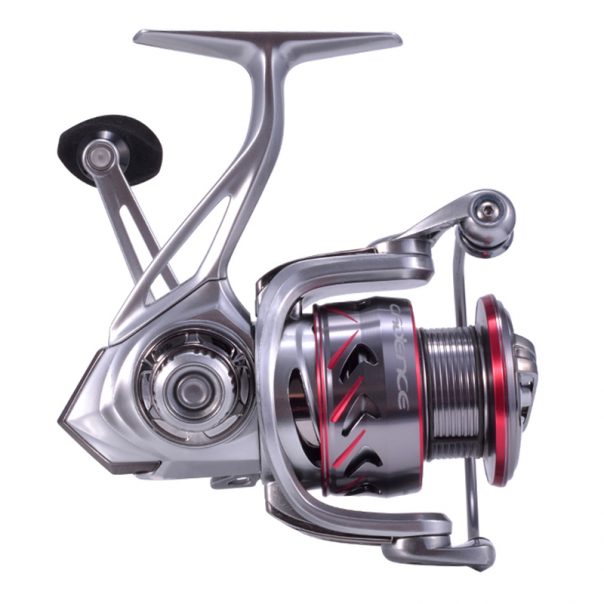 Another man who is tough on tackle is John Null from South Point, Ohio. You'll find Null on the water, four or five days a week, all year long. If he's not fun fishing for hybrid striped bass, sauger, walleye, panfish or catfish, Null is fishing for skipjack and mooneye herring for his commercial bait fishing business, Regular Dude Fishing Premium Catfish Bait.
For herring fishing, spinning reels are preferred for casting lightweight, panfish sized jigs and baits. Null is also a fan of the Cadence CS7. Null says, "The bearings are great, they make a smooth action and the lightweight aluminum frame makes it easier to cast all day without getting tired."
The Cadence CS7 is a reel that won't let you down. "I fish in all conditions," says Null, "From mud to rocks, and from 100 degrees to below zero, rain, sleet and snow, and even though all this abuse, I have never had this reel fail to perform flawlessly."
CS7 Composition
The CS7's durability is due partly to a rugged, aluminum frame and carbon composite rotor and side plate. Nine corrosion resistant ball bearings, one instant anti-reverse bearing, a stainless steel main shaft, and brass pinion gear combine to give the CS7 silky smooth retrieves for casting all day without fatigue. The reel also includes a lightweight and durable aluminum handle with a comfortable, oversized ergonomic EVA grip.
The CS7 sports a braid ready machined aluminum spool that incorporates embedded rubber grips that prevent the line from slipping. If you hook a large fish, no worries, the strong and smooth carbon fiber drag allows you to apply a maximum drag of ten to twenty pounds depending on what size reel you use. "I love the twenty-pound drag on this reel," adds Null, "it's strong enough for big fish in heavy currents, and is easily adjusted as you fight the fish."
If you want to add smooth rugged dependability to your fishing, spinning reels like the CS7 are a great choice that ought to cost well over $100. Not so with the CS7. Cadence Fishing spinning reels are a bargain because they believe dependable gear should not mean breaking the bank. With a one-year warranty on all products, you can rest assured that Cadence always stands behind their products. Finding their products is easy, you can buy Cadence gear through their website
Giving Back
Cadence gets kids fishing by donating kids fishing combos to their charity partners. Finally, if you are worried about the future of fishing, spinning reels from Cadence are a great way to help pass on our beloved sport to the next generation of anglers. Cadence dedicates a portion of their proceeds to providing free rod and reel combos to fishing-based youth charities such as C.A.S.T. for kids.

FREE SHIPPING ON ALL ORDERS

1 YEAR WARRANTY ON ALL PRODUCTS

100% SAFE & SECURE CHECKOUTS